Cosmetic Set
Normal oily / Normal dry type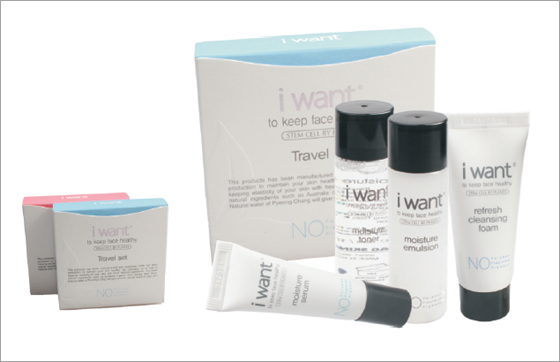 Travel Set - 4 Kinds
refresh cleansing foam 20ml
moisture toner 30ml
moisture serum 10ml
moisture emulsion 30ml
iwant intense program
No paraben, Fragrance, Pigment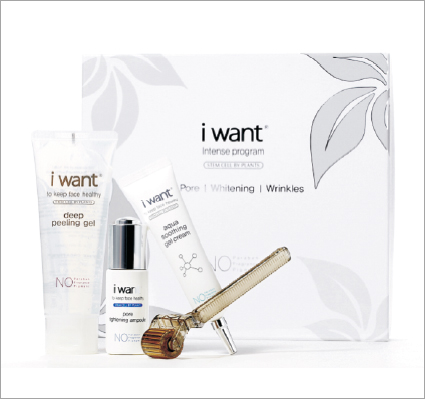 Deep Peeling Gel / 100ml
Pore Tightening Ampoule / 20ml
Whitening Control Ampoule / 20ml
Wrinkle Managing Ampoule / 20ml
Aqua Soothing Gel Cream / 40ml
For pore, Whitening, Wrinkles improvement
What is iwant Mi-Roll?
New Leader of Microneedle Roller System-Drug Delivery System of New Concept
Size : 0.25mm, 0.5mm, 1.0mm [KFDA / FDA / CE]

It is a Micro Needle Roller with a new concept equipped with patented micro needle technology (Registered No: 10-0753872) which is researched and developed by KAIST (Korea Advanced Institute of Science and Technology) and Honam Petrochemical Corp, also having other macromolecule material like FDA, CE NSF and USP Class IV. 180 minute needles on i-want Mi-Roll MTS reduces wearing of the products and it increase operation impact by forming fine and minute hall on skins and reducing pain.
Medical Needing? Skin Rejuvenation
Generally, topical medications can not be efficiently penetrated into inner skin through passage between skin cells. However, the roller equipped with specially manufactured micro needles will make fine passages on epidermis and it will help topical medications in being efficiently imbibed. It is truly a drug delivery system with a new concept.
Efficiency of operation is distinguished since it delivers topical medications into inner skin through minute passage made by needling during operation.