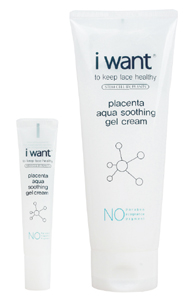 Placenta Aqua Soothing Gel Cream (15ml / 210ml)
[Whitening Functional Cosmetics-KFDA]
This whitening cream makes your skin elastic & giving moisture to skin. Containing Phyto Placenta, Aloe Barbadensis Leaf Extract, and Callus Extract revitalize your skin damaged by external environments and calm your skin.
Sodium Hyaluronate helps to reduce loss of moisture from your skin.
How to use


- Take appropriate amount and apply evenly on your face.